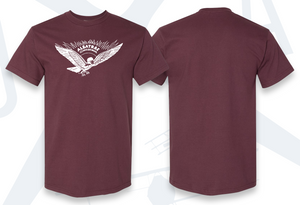 ALBATROS LOGO SERIES T-SHIRT
6 oz., 100% preshrunk combed ring spun cotton
Modern classic fit
ALBATROS FLUGZEUGWERKE:
Albatros-Flugzeugwerke GmbH was a German aircraft manufacturer best known for supplying the German airforces during World War I.

The company was based in Johannisthal, Berlin, where it was founded by Walter Huth and Otto Wiener on December 20, 1909.[1] The company (and its subsidiary, Ostdeutsche Albatros Werke (OAW)) produced some of the most capable fighter aircraft of World War I, notably the Albatros D.III and Albatros D.V, both designed by Robert Thelen for the firm. The works continued to operate until 1931, when it was merged into Focke-Wulf.